Visual
storytelling
on mobile
phone
Welcome to my project page of visual stortytelling on mobile phones. I'm Emma-Leena Ovaskainen and spent a year at Reuters Institute in Oxford finding out what are the best practises to visualise news for mobile phones. On these pages 8 heads of visuals of visual journalists answer that question.
I conducted eight interviews with the BBC, the NBC, the Guardian, The Times, the New York Times, the Washington Post, Quartz and The Pudding. I chose the interviewees to represent both broadcasting and press publishers with strong traditions from the UK and the US. I also wanted to add two digital-born sites that have a strong emphasis on visual elements in their storytelling. You can follow their thoughts on visual storytelling through out the pages, that are divided in three parts: the study, best practises and examples.
Summary
News media in digital world is like child, craving for attention. To survive in the turmoil of scattered audiences they are looking for loyal customers who keep coming back to them. They need trust and engagement. By producing more specialised content with more visual engagement, they believe they will gain audience support.
If you want to engage audiences in the distracted world, you have to give them stories that are divided into sections and have photos, infographics or animation. People are naturally drawn to movement and faces; they spend more time with highly visual feature stories or infographics than text. To make them, a silos in newsrooms have been torn down and collaborative workflows have been introduced. Exploring, testing and also failing is considered an integral part of workflow because the audience is also changing constantly. Learning from each other and having new skills of coding and UX design in visual teams helps a lot in the journey.
Coming from the world of broadsheet pages and larger file sizes, a major challenge for news designers has been the physical size of both the mobile screen and the story package. Readers want pages that upload fast, but the visuals make stories slow. This is frustrating but, then again, visualists do not mind working harder on the story. The simpler outcome does not mean simplistic, it means that the story is clean. Designers take up the challenge for the sake of the reader, who want content that is easy to digest, but also manages to astonish them.
While mobile can be restrictive, it has the advantage of interactive features and location as part of storytelling: it can be swiped, scrolled and zoomed. A phone is a highly personal device that people carry next to their bodies day and night. This makes the phone a powerful tool that enables news companies to become part of their readers' everyday lives – as long as they have their attention and manage to keep it.
Something that came up in all of my case studies is the aspect of 'worthwhileness'. A story has to be worthwhile both to the producer and the reader. To make time-consuming visual production more agile, newsrooms have invented their own tools which help designers and reporters enrich content. Giving journalists the basic knowledge of visualising stories leaves design teams with more resources to build new formats of storytelling and templates to use in future projects.
Apart from having digitally savvy people in visual teams, new careers in visual journalism have emerged, too. All the companies that I talked with have recently hired or are in the process of hiring people with visual focus: data journalists, visual editors and creative producers. Media organisations are looking for people that can master visual language, have good interaction skills and are familiar with coding and digital tools. But most importantly, these new people, whatever their position, need to think journalistically. They need to have a sense of a good story and how to tell it the best way possible.
As a result of appreciating visuals as an integral part of the story to engage readers, visual teams no longer feel they are at the end of the assembly line. Instead they are included in the early stages of planning. Designers are increasingly starting to build the story around a visual, and even to create independent visual pieces – they understand people crave them.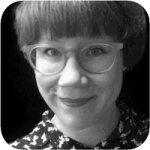 Hi I'm Emma-Leena and built this site in Journalist Fellowship programme at the Reuters Institute for the Study of Journalism in Oxford, 2017–18. The projects aim was to find out where mobile visual thinking stands in the newsrooms and what are the best practises, skills and tools that are applied. If you have comments or questions, please do contact me here.